As creatives, the market and our careers are constantly evolving.
An Introduction
Learning to live the life of journey rather than a life of destination.
Life on the road is challenging — it is exhausting. It is exciting. It forces a focus and mindfulness on the present, otherwise the infinite variables of possibility overwhelm the mind. A life that breeds an even greater desire to explore and to travel the road unknown quickly becomes addicting. The more we see, the greater our awareness of that which has yet to fall within our view. All the while, we long for a sense of retreat, stability and familiarity. The never-ceasing conflict of life on the road.
Though it started as a short road trip, life on the road quickly became the new normal and, somewhat serendipitously, an ambitious research project on the future of the creative economy. As creative professionals with ever-evolving careers and new opportunities on the horizon, we realized the need for a thesis on the future of work and life: how to thrive during the greatest industrial revolution in human history.
 
To be honest, we initially started this project with the misguided notion that we would quickly arrive at the answer. The answer so many of us desire definitively — what's next? A few thousands miles into our journey, we began to realize the error in our thinking.
We are taking an inductive approach to our greenfield research project, and are currently bringing more rigor and focus to our efforts — structured interviews, formal quantitative survey, sourcing other institutional and academic research and more.
As we travel we are connecting with individuals around the country — via phone and in person — to learn more from those actively shaping our collective future. We are curating a vision of the creative economy, embracing the shifting markets, transforming our careers, and most importantly, taking it one day at a time.
 
23K+
MILES COVERED ON THE ROAD
"Everything takes time. Bees have to move very fast to stay still."
– David Foster Wallace
Two years and 20,000 miles on the road.
More than two years and over 20,000 miles on the road, we are connecting with the individuals shaping our collective future: visionary entrepreneurs and investors, design futurists, prophet artists, change agents — the dreamers and the doers. In short, anyone willing to connect whether by phone, over coffee, or sipping cocktails. Lets talk!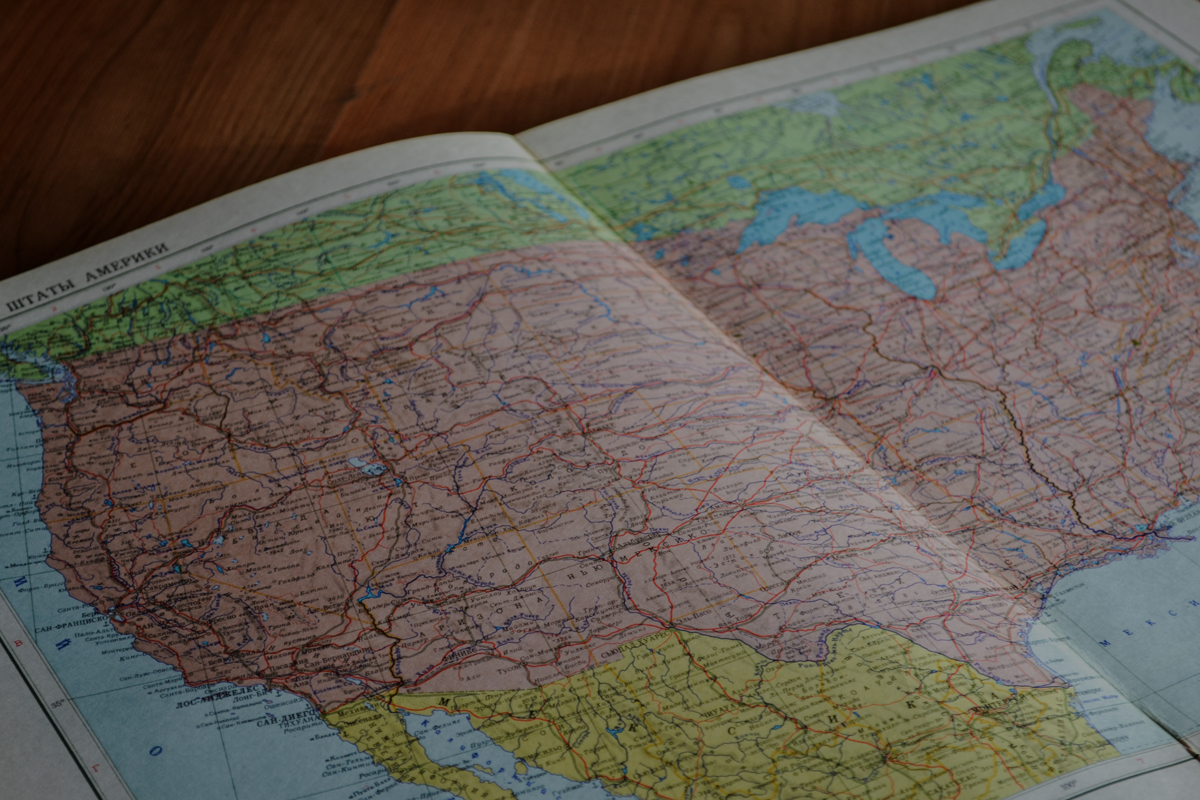 RoadTrip
The journey is home, not the destination.
Red: destinations arrived Yellow: Yet to be visited
MEandering the United States.
To answer your inevitable question: No, we are not independently wealthy, nor the heirs of oil tycoons, and we are definitely not YouTube stars. But we have found ourselves — for the past several years — operating within a rapidly changing labor market as creative professionals with constantly evolving careers.
Our work has become increasingly location-agnostic, our presence required only in meetings via phone or video calls. It was within this context that our ever-nagging inner nomads took over and we embarked to discover as much of the U.S. as we could, in our meticulously packed sedan.
About Us
Our story in brief.
We are design futurists, navigating the adventure that is life for the last 14 years in marriage and partnership across a variety of entrepreneurial endeavors and experiments. We have collaborated with others on projects ranging from an arts and event space in Manhattan, to a grassroots film festival, to building a distributed global network of creative talent; we have taught leadership development in Vietnam, coached young entrepreneurs, and built an agency to partner with early stage companies.
We are makers. It is who we are, how we grew up, and what we aspire to be. Descending from families of entrepreneurs, engineers, inventors, jewelers, manufacturers, farmers and craftspeople—it is in our DNA. Our passion is creation. We grew up in our fathers' woodshops where we began creating as children. Taught at an early age—we've heard it repeated countless times—a job worth doing, is worth doing right. The first time! And we always had to put the tools back in their proper place. Clean. The apple does not fall far from the tree.
Neil & Jennifer Baker Brown
Trying to live each day.
Collaborate
We consistently partner with a variety of unique challenges, and are always interested in learning about new opportunities. Contact us!
Consult
Over the years, we've helped individuals and organizations bring ideas to market, identified and developed creative talent, advised early stage startups, brought new business to bear, and more. Contact us to learn more.
Speak
It has been a privilege to speak at a number of venues and events on topics covering the future of creativity, the power of story, kickstarting ideas, and more. Let us know more about your event.